NEW

STAND-ALONE

NOVEL

by USA Today Bestselling Author, Chelle Bliss
Released on January 26th - LIVE

EVERYTHING CHANGED IN AN INSTANT.
I thought I knew what was important, but one phone call sent my life into a tailspin.
Alone and afraid, I cling to the one man I shouldn't.
I was warned about him and told to stay away. "He's dangerous," they said.
But the man who could hurt me the most, gave me the greatest comfort.
"He's not who they think," I told myself.
But just like an illusion, things are never what they seem.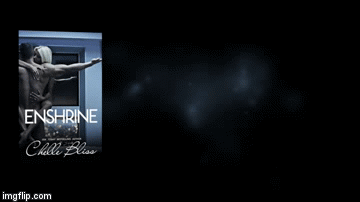 Available at the following retailers
MY REVIEW
Enshrine is a total departure from the types of stories Chelle Bliss has told in the past. It deals with serious, dramatic topics and to me it came across as more of a women's fiction story with romantic elements rather than a romance story. To be honest, this type of story is outside my normal reading zone and I did have trouble getting into the story.
The emotional and physical drama Callie goes through is well written, and the story paints a bleak, negative picture of her mind from the start. Bruno is a conundrum to Callie (and honestly he was to me as well), and though she continually tries to push him away...he just will not go. We find out near the end just why that is, but until then we are left to guess with virtually no hint of what he is hiding.
And Bruno does have secrets-yes, plural. For me, the fact that everything about those secrets is kept from the reader just as it is from Callie was a bit frustrating, especially since we learn nothing until close to the end. When it comes to Callie and Bruno together, I honestly didn't feel the "click" that would make me feel like that are a match. I'm not sure if it is the way their characters are written, the journey they go through together, or just the entire situation that had me feeling like that about them as a couple, or a little of all of those.
Enshrine is at its core the tale of a woman who learns to survive and overcome, which is admirable and dramatic. If you start this book expecting what you've always read from this author though, that's not what you're going to get. It's not meant to be like any of her other works, and to that end it definitely is unique.
As for me, the story moved a bit slowly and truthfully, it did become depressing at times. This is chiefly due to the heavy subject matter, which again is not normally the type of reading I seek out. If you are looking for a story that has drama and angst, but also some inspiration...that's what you'll find here in Enshrine.
Recommended for 18+ due to adult language and sexual content.
ENSHRINE GIVEAWAY - OPEN INTERNATIONALLY
USA Today Bestselling author, Chelle Bliss, currently lives in a small town near the Gulf of Mexico in Florida. She's a full-time writer, time-waster extraordinaire, social media addict, and coffee fiend. She's written over ten books and has two series available. She loves spending her free time with her boyfriend, 2 cats, and her hamster.
Before becoming a writer, Chelle taught high school history for over ten years. She holds a master's degree in Instructional Technology and a bachelor's in history. Although history is her first love, writing has become her dream job and she can't imagine doing anything else.
ALSO BY CHELLE BLISS