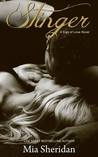 Stinger
by
Mia Sheridan
My rating:
5 of 5 stars
Stinger is the first book I've read by this author…and after reading it I've put every one of the books she's written so far onto my TBR list. I'm always a sucker for the good girl meets bad boy story. But though Carson may seem like a bad boy due to his profession, he's really a good guy at heart…and don't be surprised if he steals yours.
The writing was fantastic-very smooth and made for an easy read. The interactions between Carson and Grace were funny, and I really liked seeing them go from the "no way in hell we're getting together" to the "I don't want to leave", even if it happened quite quickly. The author keeps you hanging on to each word-be prepared for one of those all-night, keep reading until it's finished marathons.
The transformation that Carson undergoes is amazing, and will make you love him even more. Grace's character seems to stay mostly the same throughout the story, except where Carson is concerned. The secondary characters provide an excellent supporting cast, especially Carson's military buddies-which it would be wonderful to have their stories written as well, I hope the author decides to write them.
Sometimes just letting go of your preconceived notions and taking a chance can ultimately be rewarding, the lesson Grace learns here-though it takes her a while to finally achieve that reward…keeping the reader on the edge until the end to see how it turns out.
A very solid 5 out of 5 stars…and for the 18+ crowd due to language and sexual content.
View all my reviews